You are here:
Homepage
→ Short term accomodation
Short term accomodation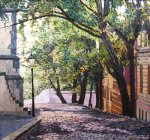 Short Term Accommodation
We are pleased to offer our Clients high quality short term accommodation at a number of locations around the City of Prague.
All the apartments we offer are in quiet locations that are near to, or in, the city centre and have been recently refurbished to a good standard.
An English speaking collection and return service to the airport can be arranged upon request.
Contact:
prague@alternativereality.cz